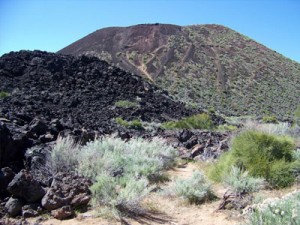 Jordan Perez, Assist. Park Mgr. will lead a hike on the Cinder Cone Trail. The trail has been there since at least the late 90s, but many people forget about it because it is at the very northern tip of the park.
This summer the park undertook a reconstruction of this trail, and it should be about 60% completed at the time of this event. In addition to seeing the new trail sections, we will be discussing the geology of the volcano: formation, function in sculpting the landscape, etc. It should be a very interesting hike. Parts of the trail are steep, but it is not particularly difficult.
Participants should plan to meet at the turn to Diamond Valley parking on Highway 18, in the large gravel area on the right.  We will then walk along the shoulder to the trailhead.