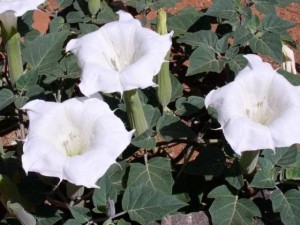 Gayle Bray wrote the following report on the recent wildflower hike.
Hike Recap: April Friends' Member Event –  Wildflower Hike With Snow Canyon Park Manager Kristen Comella
What a treat!   Johnson Canyon, closed to the public during this time of year, was our hike destination and along the way we learned a lot about sex, plant sex, that is.
Some of the many wild flower varieties Kristen shared with us included Globe Mallow, Cheese Bush, Wolf Berry, Stork's Bill, Spectacle Pod, Wild Rhubarb, Dwarf Lupine, Fire Cracker Penstemon, Deer Vetch and more (my hike notes identified 28 different flowers & grasses).  Kristen's 16 year knowledge of Snow Canyon gave a historical perspective of yearly blooms along with pollination knowledge (wind, water, insect, bird), as well as native and non-native flower & grass species. A mating pair of Peregrine Falcons and a Golden Eagle sighting added a nice wildlife touch to our wild flower hike.  Thanks Kristen!!!
Thanks Gayle!!!
Kristen has provided an attachment showing the plants that they saw as part of a list of all of the plants in the park. It is available by FSCSP Wildflower Hike April 1.
She also included some useful reference books:
Fagan, Damian.  1998.  Canyon Country Wildflowers: A Field Guide to Common
Wildflowers, Shrubs, and Trees.  Falcon Publishing Co., Helena, MT.  147 p.
MacKay, Pam.  2003.  Mojave Desert Wildflowers.  The Globe Pequot Press, Guilford, CT.  338 p.
Nelson, Ruth Ashton.  1976.  Plants of Zion National Park: Wildflowers, Trees, Shrubs, And Ferns.  Zion Natural History Association, Springdale, UT.  333 p.
Taylor, Ronald. 1998. Desert Wildflowers of North America. Mountain Press Publishing Company, Missoula, Montana. 349 p.
Taylor, Ronald.  1992.  Sagebrush Country – A Wildflower Sanctuary.  Mountain Press Publishing Company,  Missoula, MT.  211 p.