The Board of Friends of Snow Canyon is a dedicated group of local residents who care about the park and want to help preserve, protect, and support it. Members serve two-year terms and can be reappointed for future terms. If you have an interest in serving on the board, please contact us at friendsofsnowcanyon@gmail.com or make your interest known to a current board member.
Kristen Comella – Park Manager and Jordan Perez – Assistant Park Manager- serve as nonvoting members. At least one of the park managers attends each meeting.
Board meetings are open to the public.
2017 BOARD OF DIRECTORS
President of the Board of Directors – Chuck Schwartzenberg. Chuck and Sara Schwartzenberg moved to Southern Utah in August 2013 leaving Southern California. Having travelled the Western United States for many years they were drawn by the unique beauty of this area. Chuck says, "I am honored to serve and work alongside such passionate and dedicated folks who want to ensure Snow Canyon State Park prospers for future generations to enjoy".
Vice President – Penny Cooper-Francisco has been a full time resident of St. George for the past six years. Penny and her husband Chet decided to retire to St. George because of the beauty of the area. Penny's idea of a perfect day is taking a walk or hike in Snow Canyon.
Prior to retirement Penny was a high school teacher, a middle school and high school principal, and an assistant superintendent. Her hobbies include walking, hiking, reading, and golf.
Treasurer – Janice Heller is a St. George resident, happily transplanted from Michigan. After working as a self-employed accountant and tax practitioner for 40 years, she is delighted to retire to blue skies and red rocks.
Like many members of the Friends of Snow Canyon State Park, Janice is smitten with the beauty of the park. She hopes that working with the Friends group will help draw more visitors for the natural wonders, trails, and the education that the park has to offer.
Vickie Honchen – Secretary – After thirty-five years in Alaska, Vickie discovered she was a desert rat at heart. An avid hiker, explorer and cycler, she continues to enjoy the beauty and recreational opportunities abundant in Snow Canyon State Park. Through her participation on the Board of Friends of Snow Canyon, she continues to pursue her interest in protecting and preserving this urban gem.
Betty Marianetti and her husband found the beauty of Snow Canyon when they took their first trip to Red Mountain Spa. They eventually moved here from Rochester, New York, in 2010. They enjoy the varied activities the beautiful environment offers from quiet twilight picnics to challenging hikes. Betty's background is in art consulting and she is a certified yoga instuctor. Sharing information on the flora and fauna of the park with other members as well as park guests while acting as Trail Stewards is an area of special interest that benefits many.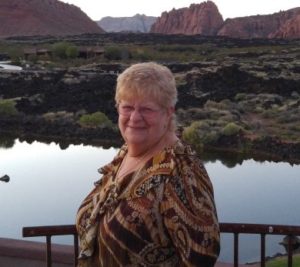 Ellen Nathan came upon the beauty of Snow Canyon State Park in August 1995 while looking for land in Ivins. Many days were spent walking the trails of Snow Canyon State Park. Ellen found that she was continually amazed at the different features that the park has to offer. Ellen's professional background in management is an asset to the board at Friends of Snow Canyon and she can think of no better place to volunteer.
Marilyn Graff is a 5th generation resident of Southern Utah who grew up roaming the red sand and sandstone of Snow Canyon and surrounding areas. She is now employed as a hiking guide at Movara Fitness Resort and loves showing off the Park to visitors from all around the world. She enjoys helping to preserve and promote beautiful Snow Canyon as a member of the Friend's Board.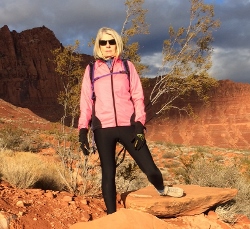 Sandy Nelson – After working for a large nonprofit assisting other nonprofits for many years in Sonoma County, CA, Sandy is pleased to serve as a volunteer board member for Friends of Snow Canyon. Always an outdoor person with a love of nature, she enjoys helping Friends in all respects as we endeavor to protect and preserve the park for generations to come.
Joyce Whalen moved from Salt Lake City, 8 years ago, to enjoy the beauty of St. George. Joyce can usually be found hiking, paddle boarding, doing yoga, biking or making pottery. She spent most of her professional career managing call centers for large corporations. After retirement, she co-founded a nonprofit group that provided holiday gifts and socialization opportunities to adults with intellectual disabilities. She is constantly amazed at the beauty that is found in our backyard.
Isabelle Kalantze found her way to St. George in 2011 after vacationing for several years in the area with her husband, George. They were drawn to the region for its natural beauty, recreational opportunities and vast desert landscapes. An avid hiker, photographer and yoga practitioner, she continues to be grateful for everyday spent among the beautiful red rocks. Isabelle is honored to serve as a board member and to assist in helping to continue the Park's mission to preserve and protect it for current and future generations.